Photo by Anne Nygård on Unsplash
While most of the year I enjoy daily walks, from mid-July to the end of August, I spend my outside team walking to and from building and car, car and building. I don't even live in a particularly hot part of the country, but still the heat of August is enough to fry me. 
Birthdays in August are always saddled by some of the hottest days of the year, and for those of us who live without air conditioning, the weather can really dampen the mood. But let's not lose sight of the celebration in the steam rising off the sidewalk. Here are gift ideas specific for those sticky August birthdays.
Dog Days of Summer
If you haven't already, take a moment to learn a bit about why we call them the "dog days of summer." These are days for hunkering down and not tempting fate–or the heat. Hydrating, hunting shade, and generally waiting for them to pass.
If your Augustin (yes? yes.) is born in the dog days, show them you like them anyways with a gift to beat the heat. Many areas that have never had to deal with extreme heat before–like New England and the PNW–are getting hit regularly every summer now for weeks at a time. The houses and apartment buildings usually lack air conditioning and can be stifling once the temperature breaches 85F. A powerful, space efficient fan is a thing of beauty. Lasko's tower fan is compact enough for studio apartments and powerful enough to cool a room enough to sleep in. 
If they're like me, almost every drink from May to September is filled with ice. The average fridge can produce enough for one or two people to use this much ice, but if they either have an old fridge that requires ice trays or if they have multiple people in their home, a countertop ice maker that can be tucked in a closet or storage unit the rest of the year will be appreciated every day for half the year. 
One of the best ways to keep our internal temperature down is to reduce movement. And for my money, there's no better way to do this than to binge watch a classic show. While most of us rely on streaming services these days, we've also all been burned by having our favorite shows moved to a streaming service we don't subscribe to, and, frankly, can't afford. Or at least shouldn't. So help them out with a box set of their favorite show. Or maybe your favorite show. Whether it's The Office, Supernatural, How I Met Your Mother, or The Wire, your Augustin will be happily ensconced on the couch in front of the TV (and the fan) for hours.
Late Nights in the Backyard
When the sun finally goes down in August, we can emerge from our homes and hopefully set ourselves up on a balcony or patio space to breathe (slightly) cooler air for a few hours.
Maximize this time for your giftee with creature comforts for their outdoor space however large (or small) that may be. A patio or yard umbrella can extend the time that can be spent in this space comfortably. String lights can help keep an elegant party vibe late into the night.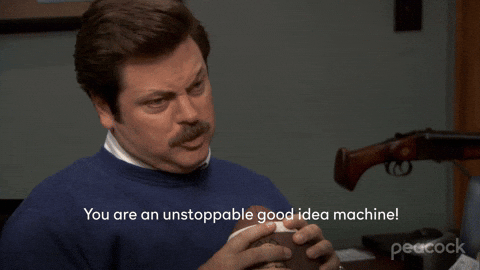 If your Augustin is a cocktail or mocktail drinker, some elegant but sturdy glassware will reduce stress in several ways. Throw in a few unique cocktail umbrellas and some elevated cocktail cherries (good enough to eat right out of the jar) for a memorable gift. 
If they've just moved into an apartment or house with an outdoor space, it's likely they don't even have any basic patio furniture yet. So before you give them glasses they have to stand around with like the most awkward kid at junior prom (me!), start with some basics: chairs and a bistro table. IKEA has some great sets, though I'm partial to their Askholmen and (for those with a bit more space/money) Falholmen chair/table combos.
In Search of Air Conditioning
Alright, it's 5pm and they're getting off work but can't bear to head back to their oppressively hot apartment. Where can they go? Museums? Theaters? Look for local passes or memberships that sit at the intersection of air conditioning and personal interest for your Augustin. 
Before you write off your giftee as "not a museum type," take a look around your area. There are many kinds of museums that will appeal to all kinds of individuals. Whether they're interested in cars or boats, military or music, sports or the arts–there's a museum for them.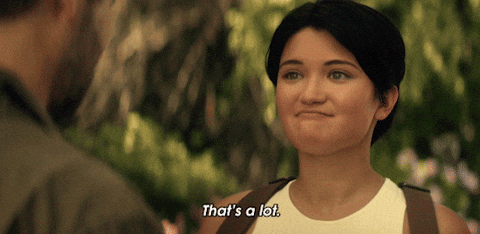 When it comes to theater spaces–yes, they frequently have air conditioning, but more than that, they offer an incredible array of entertainment. From new films to classics, local musicians and touring acts, improv, stand up, burlesque, Shakespeare, drama, and comedy. If you don't know what your Augustin likes, give them a night out and see what they're into. Once you've found the sweet spot, though, consider going all in (or pool together with your friend group) to get them season tickets to whatever programming they particularly love. They'll likely get perks through the theater, and the opportunity to build relationships with other enthusiasts of that art form. And bonus! You're also supporting local artists–huzzah!
Vacation, Baby!
What optimizes a vacation is different for every person. For some it may be upgrading their flight or hotel room. For others, it might be a year's membership to the National Trust in the UK so they can come and go to historical homes, castles, and gardens across the UK for free. Or perhaps a private (or semi-private) guided tour around Paris's many museums.
These last few years, I know people who have taken a vacation in the heat of summer simply to check into a hotel with air conditioning. Heck, it doesn't even have to be a vacation proper–they can still go to work or work remotely–but the quality of life difference (just for a few days) can be massive. If you travel a lot and have points you can donate, you may not even need to spend money to turn this year's gift into your Augustin's favorite of all time.
Save the rich meals, the sweets, and the slippers until Christmas. August birthdays are all about "Yay! You survived the year! Let's make sure you survive the week!" So don't overthink it. What would make them happy and comfortable now? Today? Go all in on that baby. And then snag yourself another one. Because you should be cool and comfortable, too.
---
[This post includes products from… America's Car Museum, Babylon Tours, Best Buy, Bookshop.org, Crate and Barrel, Etsy, Home Depot, IKEA, Lowes, National Gallery of Art, National Infantry Museum, National Soccer Hall of Fame, National Trust, NH Boat Museum, Songbirds Foundation, World Market.]